In September 24, 2000, LÖSEV established LÖSANTE – the Hospital for Children with Leukemia, which provides the latest facilities and advantages of modern medicine for children who have leukemia.

LÖSANTE offers many of the facilities a hospital does, such as in-patient treatment services, an intensive care unit and outpatient unit. In our hospital, we have units that can accomodate families as well as a modern blood bank and advanced laboratory facilities. Another floor of the hospital has been set aside for use as a theater /cinema. There is a play room for painting, music, games and computer rooms which all give children the opportunity to keep up their education, socialise and enjoy themselves, even in the hospital.

At this hospital over 300 children with leukemia or blood disorders have been treated free of charge in the last 8 years; from examination to assessment, blood transfusions to pyjamas. 87% of those were below the poverty line and 12% did not have any medical insurance.




Over 100 of our patients who completed therapy over 3 years, have fully recovered and have embraced life once again.

According to a year's data of our hospital:
Ø 1653 patients had outpatient treatment,
Ø 252 patients had inpatient treatment.

(2007-2008) Distribution of patients treated according to social security:

| | |
| --- | --- |
| Bagkur (for artisans and the self employed) | 10 |
| Green card (for uninsured people) | 20 |
| SSK | 144 |
| Without any social insurance | 91 |
| Total | 265 |
Does The Social Security Organisation pay for everything?

If we put it in numbers; approximately 300 patients have received treatment up to now.
If we consider the average cost of a patient as 250.000 YTL (Two hundred and fifty billion TL), 250.000 x 300 = 75.000.000 YTL (Seventy five trillion TL).
The amount paid by the Social Security Organisation is 709.000 YTL (Seven hundred and nine billion TL) (not even 1 per cent).
We carry out this incredible service; finding donations for medicines, pyjamas, rice, bread and even for toys in our hospital.
We provide a flawless medical service to everyone, free of charge, without discriminating between rich and poor. However, 87% of our patients are genuinely poverty stricken and 12% do not have any social insurance.
We are very blessed and proud to have brought our children back to life with your donations and support; children who might not be alive today had chance not smiled on them and brought them to LÖSANTE.

Our hospital is comprised of;


A 14 patient capacity treatment unit
Intensive Care Unit with 2 beds
Outpatient Unit for 12 people
4 Outpatient Clinics
2 Emergency Treatment Units
Hematology - Microbiology - Blood Bank
Radiotherapy ( CT, USG, X-ray Units)
Computer rooms
Cinema
Entertainment rooms
Sports rooms

Happiness, morale and attachment to life play as important a role as medicines in the treatment of leukemia. Ever aware of this fact, our administrators and medical staff always endeavour to provide a variety of social opportunities within the hospital.

At Lösante, we believe that children benefit from having their parents close by during treatment. For this reason, the rooms are designed as luxurious single rooms for mother and child. Cuddling their mothers and feeling their supportive presence, our children always have a smile on their faces.
Moreover, an enormous area is allocated especially for our children to do sports, play games and have fun in a lushly green, oxygen-rich garden full of toys.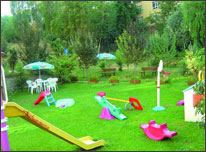 LÖSANTE HOSPITAL FOR CHILDREN WITH LEUKEMIA
TURGUTLU SK. NO:30 GOP. ANKARA
Tel: 0312 4464606
Dentist Kürþat ALANYA
Ankyra Dental Health Center

Before treatment, our children are checked in terms of dental health and treated if necessary.
In this way we prevent the most common sources of infection and increase the success of chemotherapy.
Such is the loving atmosphere at Lösante, many of the children do not want to leave the hospital. Our cute kids sometimes do not even want to go home after treatment since they celebrate birthdays and spend holidays with their new-found friends.

We organise sightseeing tours to Anýtkabir, Atakule, game parks and museums for our long term patients and this helps give them the motivation to battle their illness and cling to life.