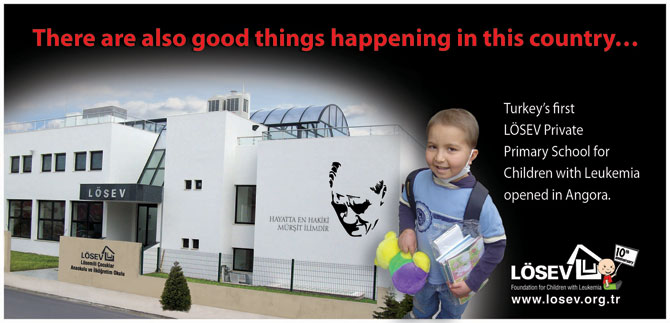 They are children who were not accepted to their school and marginalized from other children. They are children who could not go to schools that are not hygienic due to the risk of catching infection.
They are our most precious beings who no one wanted to sit with them fearing they would be infected with the disease and children who no one wanted to be their friends with fearing that they may die.
Turkey's one and only LÖSEV- The School for the Children with Leukemia opened its doors in its own building in Angora. Leukemic children, their families, LÖSEV volunteers and NGO Chairpersons were present and thousands participated the opening ceremony which was initiated by the Minister of National Education Ass. Prof. Hüseyin Çelik.
Our children will run and play in our huge green garden, they can also receive trainig with sure touch in the school's hygienic area and clean air which is away from traffic.
Children with leukemia and cancer who continue to LÖSEV nursery and primary school will be provided with the following;
1. Education grant worth 250 TL
2. All stationeries and books
3. Every school, sports suits and shoes
4. Breakfast, lunch and snacks
5. They will be picked up from and brought back to their home by school busses; the fee being covered by LÖSEV.
There are also good things happening in this country.